Mehandi Design Of Indian Actresses
The earliest cosmetic use of henna (lawsonia inermis) was in Egypt,
where the people would dye their hair and nails,
and a Pharaoh's fingers and toes would be dipped before mummification.
Once the henna plant's cooling properties were discovered,
painting the skin and dying the hair with henna became a way for the people
in desert climates to cool their body temperature.
For centuries mehndi has been practiced in Africa, India, Asia, the Middle East,
and Central Eurasia for various ceremonies and celebrations.
Today mehndi is still practiced in many diverse ways,
from eccentric body decoration, to healing ceremonies.
Mehndi is a Magical Art Henna dyes the top layer of skin,
so as the skin replaces itself and exfoliates away, the designs fade.
The areas with thicker layers of skin will last the longest~
The hands and feet can last up to 4 weeks.
The arms, ankles, back, and belly can last up to 3 weeks.
And the chest, and face will last a week at most.
The Two Best Areas of the Body for Mehndi
are the Hands and the Feet.Hands ~ the most popular and long-lasting area of the body.Palm ~ designs invoke images of opening and offering (usually sun, flower, mandala)
Back of hand ~ acts as a shield-closing, defending, clenching-symbolizing protection.
According to Eastern Indian Palmistry
Right hand ~ Male, Projective
Left hand ~ Female, ReceptiveFeet ~ the tops stain deeply & are long-lasting.The feet are recognized as a point of divine contact, considered a holy junction,
where Human being and Earth meet.
Mehandi Design Of Indian Actresses
Mehandi Design Of Indian Actresses
Mehandi Design Of Indian Actresses
Mehandi Design Of Indian Actresses

Mehandi Design Of Indian Actresses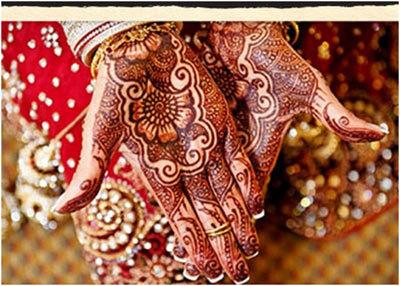 Mehandi Design Of Indian Actresses